About Sehon Goodridge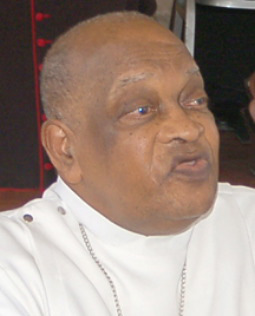 Sehon Goodridge was born In Barbados in 1937. He was educated at Harrison College, Codrington College, Barbados and King's College, London. He was ordained as a minister in 1964 and began his service in the island of Saint Lucia. He then was appointed as The Chaplain of the University of the West Indies and then Principal of Codrington College from 1971-1982.
He also served as Warden at the Cave Hill Campus, Barbados and the Episcopate as Bishop of the Windward Islands was as Principal of the Simon of Cyrene Theological Institute. Sehon Goodridge died in 2007. After his death the faculty of invited his widow to one of the Graduation ceremonies. She gave permission for the Trinidad and Tobago Society to use the name Sehon Goodridge Theological Society.
Bishop Goodridge was also the first principal of Simon the Cyrene Theological Institute in Wandsworth, a pre-theological training institute for ordinands and lay workers specially designed to serve Anglicans from minority communities in the UK.
Dr Goodridge published a number of books including: